We are developing our support services for contractors and professionals who wish to grow their energy efficient renovation and refurbishment services. Find a range of training courses and webinars below, People Powered Retrofit is enabling us to host these quality training sessions at highly subsidised rates.
You can read more about People Powered Retrofit here.
If you are a UK based building professional and want to be kept up to date with our activity in this area please sign up here.
AUTUMN 2020
Training Courses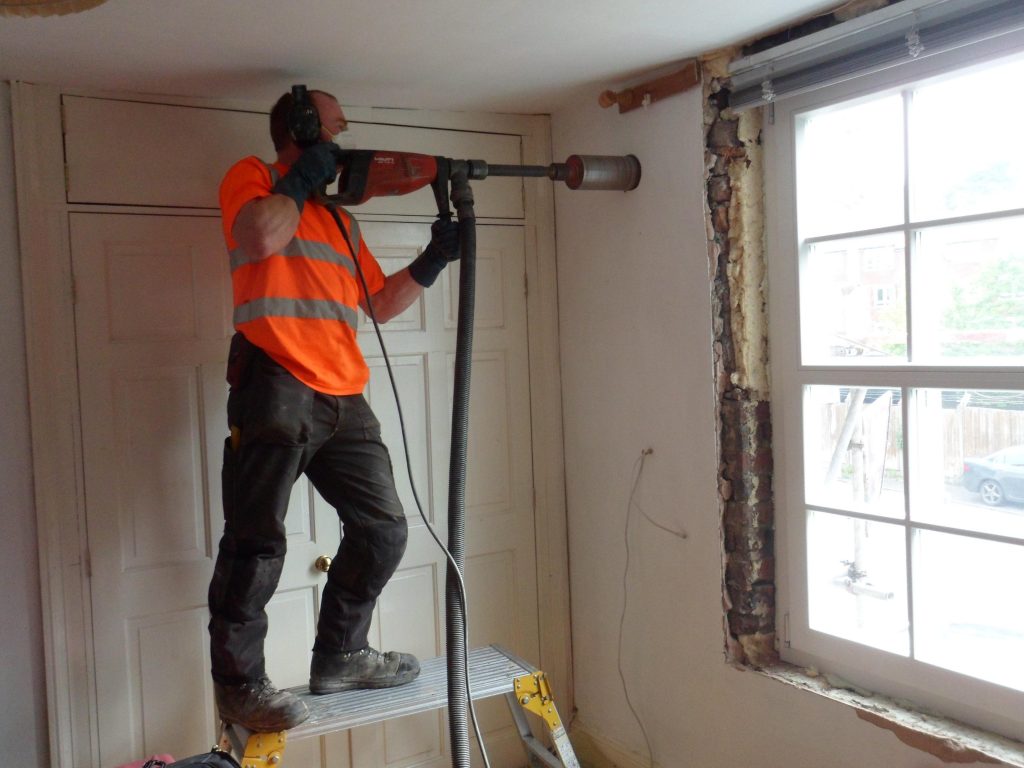 Introduction to Designing and Installing Ventilation Systems with Aereco
This two-part online training course on ventilation will give you a deeper understanding of designing and installing ventilation systems to ensure your clients gain the benefits of good indoor air quality.
Part 1 – Wednesday 21st October, 5-7pm.
Part 2 – Thursday 12th November, 5-7pm.
Heavily discounted for businesses operating in Greater Manchester.
Who: Consultants, architects, general contractors, small building firms, design and build contractors, electricians and retrofit coordinators interested in designing and installing ventilation systems, particularly in the context of energy efficiency refurbishment works.
Eco-Renovation for Builders NEW ONLINE COURSE
This unique four part online course brings together theory and practical experience, it digs into how to apply building physics to the messy reality of retrofit.
Online sessions: 1st, 3rd, 8th and 10th December, 5 – 6.30pm
Practical session: 12th December, 10am – 12.00 noon
This will be a covid safe session in Islington Mill, Salford. Places are limited and available on a first come first serve basis.
Who: The course focuses on the fabric aspects of work and therefore most relevant to general builders, joiners and those interested in becoming retrofit specialists. Significant discounts apply for any contractor who work in the Greater Manchester area. Architects and consultants keen to understand retrofit from the contractor perspective and householders who are competent/keen DIY-ers may also find it useful.
——-
Webinar Events
Setting Our Retrofit Standards
Energy Efficiency Standards in Retrofit with Mark Siddal, LEAP architectural practice
Wednesday 16th September, 6 – 7.30pm, More info and book here
Explore how retrofit standards can be applied to your project, including the Passivhaus retrofit standard (EnerPHit) and the AECB Building Standard.
Who: This webinar will be appropriate for design and build contractors, architects, consultants. 
—–
My Retrofit Planner – An introduction – EVENT POSTPONED
An introduction to our retrofit assessment and planning tool with Marianne Heaslip, URBED.
Monday 28th September, 6-8pm, More info and book here 
Gain insight into My Retrofit Planner (previously called My Home Energy Planner). Based on SAP (with modifications) this planning tool has been developed over the last decade by URBED and Carbon Co-op to help homeowners plan their retrofit projects. 
Who: Architects, retrofit/energy consultants, retrofit coordinators and contractors who do design/assessment work.
—–
Ventilation Case Studies
Thamesmead and Reading Borough tackle damp and mould with Peter King and Vince House, Aereco 
Monday 5th October, 5 – 6.30pm, Book here 
Hear about Thamesmead's groundbreaking and award-winning Condensation Damp and Mold Strategy, and Reading Borough Council Monitoring Study. 
Who: Consultants, architects, Housing Association and Local Authority officers interested in deepening their understanding of indoor air quality. 
—–
'On site' with People Powered Retrofit
Virtual 'site visit' and conversation with Manchester's first PPR client and his contractor
Wednesday 25th November, 6 – 7.30pm, More info and Book here
Join us for this virtual site visit of Carbon Co-op member, Alan Williams' home as it undergoes the installation of internal wall insulation, ventilation and heating systems. 
Who: For contractors and consultants interested in internal wall insulation, ventilation and heating systems and the clients perspective of undertaking retrofit works 
—–
Step-by-step Passivhaus Retrofit with Harry Paticas
Case study of a phased Passivhaus Retrofit 
Wednesday 2nd December, 6 – 7.30pm, More info and Book here
We are excited to be joined by Harry Paticas whose home is the first pre-certified step-by-step passivhaus retrofit in the UK.
Who for: Retrofit consultants, advisors, architects, contractors and householders