Staff team
We operate as a flat structure co-operative, based on pay parity and a peer review management process.
Natalie Merrick
Natalie joined Carbon Co-op in October 2023 as a project officer in the retrofit team. She has recently gained her degree in MSc International Public Policy, which involved working with the Department of Agriculture, Environment and Rural Affairs in Northern Ireland to understand the perspectives of stakeholders across society to achieve a just transition to net zero. With a geography background, Natalie is interested in taking a place-based approach to energy justice to understand the relationship between people and the environment.
She is passionate about social justice and is also involved in the UK Youth Climate Coalition to communicate messages and engage with policymakers. She is keen to engage with communities to understand and apply this work in retrofit to power a community-led transition.
Ellis Barnwell
Ellis joined Carbon Co-op in May 2023 to work in the Energy Systems team as a software developer. After doing a PhD in wave mechanics Ellis went on to work on condition monitoring of high voltage electrical systems. Since 2022 Ellis has been working in building control systems focusing on the integration of tech into smart buildings.
Ellis has a strong interest in the use of demand side response to smooth out the electricity grid, making renewable energy more reliable. He works primarily on home energy management systems to control devices like EV chargers and immersion heaters within the homes.
Kat Wong
Kat joined Carbon Co-op in April as a project officer for the Energy Commons team. With a background in urban design and planning, Kat is an experienced urban designer and researcher who previously served as a director at URBED, a workers' co-operative focused on research and design consultancy.
Between 2020-2022, Kat worked on a project called Oldham Energy Futures, which aimed to explore how communities could engage in the energy transition. This project involved urban data mapping and spatial energy planning in two neighbourhoods in Oldham and working with the community to develop a series of local energy projects.  Kat was also involved in a project in 2022 called Poplar Green Futures, running workshops in Poplar, London to map and develop a climate action strategy with the local community.
Lorenza Casini
Lorenza joined Carbon Co-op in March 2023 as the Energy Commons team lead.
She is a qualified architect and urban designer with an MSc in environmental and energy science. Her career spans across two decades developing solutions to combat climate change with a focus on just energy transition. She has worked both with the private and public sectors, supporting them to produce in cooperation with their communities, innovative projects.
Between 2020 and 2022 Lorenza worked on Oldham Energy Futures, a Google Foundation project that used innovative urban data mapping to inform householder engagement and spatial energy planning within the Westwood and Sholver areas of Oldham.
She is also a founding householder member of the co-operative and former director of workers' co-operative URBED.
Helen Grimshaw
Helen joined in November 2022 and works as Carbon Co-op's Lead for Research and Evaluation. She works across teams and projects offering specialist sectoral expertise and knowledge, as well as delivering workshops and training in a variety of settings.
Helen has worked in energy and retrofit for many years, with a particular interest in handover and evaluation stages. Previously at co-operative consultancy URBED, she collaborated with Carbon Co-op on many occasions, including the pilot phase for People Powered Retrofit. She's also worked at the Centre for Sustainable Energy.
Helen has a keen interest in how technical information is communicated to and understood by ʻnon-technical' users, and the impact this has on the operational performance of buildings and systems.
Aldous Everard
Aldous joined the retrofit team in October 2022 to manage projects which span retrofit and monitoring and evaluation of buildings performance.  
With a passion for working on environmental issues he brings experience in managing renewable energy and interdisciplinary research projects. 
He has an MSc in renewable energy technologies from the Centre for Alternative Technology and also has experience in buildings air tightness, recycling and environmental monitoring.
James Lester
James joined us in November 2022 with a background in start-ups and scaling, having previously led project management and operational development for both small and large organisations (including a certain red-shirted football club). He has an extensive experience in retrofit and green energy, and has been involved in several of Carbon Coop's projects prior to joining the team full time.
Sophie Norton
Sophie joined Carbon Co-op in April 2022 to work as a Project Manager in the Retrofit Team. Sophie is seconded from Historic England, the government advisor on the historic environment, where she has spent 6-years delivering training for professionals and projects that upskills construction workers in heritage skills. Sophie is currently part of a major heritage skills training programme, which is delivering 2 summer school events for construction trainees to learn about heritage conservation together and during capital repairs. She is keen to learn more about the Carbon Co-op's work in retrofit and understand how it could support the retrofit of the historic built environment.
Matt Franklin
Matt joined Carbon Co-op in July 2020, working on the Membership Team and the Energy Systems team. His work has focused on PowerShaper Flex & PowerShaper Monitor, working with householders to get participate in the projects.
He has previous experience in the environmental NGO sector, working as the European Communications Co-ordinator for a global plastic pollution campaign.
Matt has been involved in European and UN policy spaces, drafting technical position papers, planning media stunts and supporting impacted communities in these spaces.
He has further experience in working with and developing co-operative enterprises, and working in membership organisations to empower members to take collective action.
Claire Knox
Claire joined Carbon Co-op's Energy Services team in August 2021 and works on Energy Systems and Energy Commons projects. Claire has several years' project management and system implementation experience predominantly in clinical and surgical settings, as well as a strong passion for reducing carbon emissions and protecting biodiversity. Gaining her BA(Hons) degree from the University of Leeds, Claire is now working towards a qualification in Environmental Science.
Jonathan Atkinson
Jonathan is a co-founder of Carbon Co-op, a board member and staff member, developing and project managing innovative, new low carbon projects. He is the Retrofit Lead at the organisation, overseeing a wide range of energy efficiency projects.
Since completing a degree in Environmental Biology Jonathan Atkinson's career has crossed boundaries and disciplines. He worked at two research co-ops, Ethical Consumer Magazine and Corporate Watch and in 2002 co-founded UHC Collective, a multidisciplinary art and design project. Jonathan's interests lie at the point where urban development, art, community and politics meet. Throughout his career he has explored the potential for co-operative and collective action to create change.
He splits his time with People Powered Retrofit where he is Business Director.
Matt Fawcett
Matt Fawcett is Energy Systems Lead at Carbon Co-op, overseeing a wide range of innovative projects that utilise open technologies and collective approaches to tackle energy transition challenges and opportunities.
Matt has been involved in Carbon Co-op since its inception and has particular experience of energy monitoring and smart home technologies. He is a regular convener of Carbon Co-op's long-running Eco-home Lab MeetUp.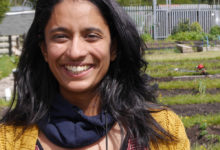 Aneaka Kellay
Aneaka works in the Retrofit Team and Energy Commons Team at Carbon Co-op. She is experienced in workshop development, facilitation and community engagement. She is passionate about social and environmental justice. Over the last 6 years, she has worked to engage and organise training for householders and contractors around retrofit.
Her current area of interest is in people-centred approaches to energy-efficient schemes.
Laura Williams
Laura has 10 year's worth of experience campaigning on climate related issues in Manchester. She is particularly interested in the social justice aspects of the climate transition, incorporating democratic and equality demands in to the campaigns and projects that she works on. At Carbon Coop she is involved with marketing strategy and developing new events, projects, and campaigns. She is currently leading our involvement in mPOWER.