We recently introduced the Carbon Co-op Hub, in this follow up post Peter Armstrong, a member of our software engineer team, discusses a key feature of the hub that lets members view the gas and electricity usage in their homes. To use this feature, you will need a smart meter. Not all smart meters work at the moment, but more are being added as time goes on.
About Smart Meters
Smart gas and electricity meters have been rolling out in the UK for the last few years. Energy suppliers are offering them to household customers all around the country. Smart meters use a private wireless network to send your usage data to your supplier. The data is sent at 30 minute intervals, and you can also view it on an in home display (IHD).
The roll out of the new meters is a massive undertaking and there have been a few bumps in the road. The first generation of meters (SMETS1) were not as smart as they could have been, and they lost some of their smart features if you changed energy supplier. The next generation of the technology (SMETS2) aims to solve many of the issues, and this type of meter is now cautiously being installed by suppliers around the country.
For further information on smart meters, contact your supplier or check out:
Hub Integration
We are working with a 3rd party service – N3RGY – to access smart meter data. N3RGY provide a developer friendly service or "API" which makes it simple for our team to program an integration with your smart meter.
To check if you can use the integration, you'll need:
To be a Carbon Co-op member
To have a smart meter
To have access to your smart meter's In Home Device
Your meter MPAN number
Sign in to the Carbon Co-op Hub using your member details at hub.carbon.coop and navigate to the smart meter page by clicking on "Add Smart Meter".
Consenting
The first step is to check if your meter is live on the system and give Carbon Co-op permission to access the data. To do this, input your MPAN and include an optional description of the property where the meter is, for example your address or house number.
The system then communicates with our data partner, and before checking if your meter is available, you are asked to consider the terms and conditions. Once you agree to the T&Cs, the search for your meter starts. If your meter is found, the system sends a special four digit code to your in home display – you'll need to input this code in the website and then you will be redirected back to the Carbon Co-op Hub and we will start accessing your data.
It can take up to 24 hours for the first data to appear, so check back later!
If your meter is not on the system, you will be redirected back to the hub where you can leave some details and we will try to get it added soon.
Viewing data
Once your initial data has been accessed, we continue to check for new data periodically. A sync typically happens at 3:30am every day. The data is available at 30 minute time intervals and you can use the drop down boxes to select dates and time periods to graph your data.
The data you can view is historic, it doesn't start logging at the moment you access the service, instead you can see data all the way back to the point you had the meter installed.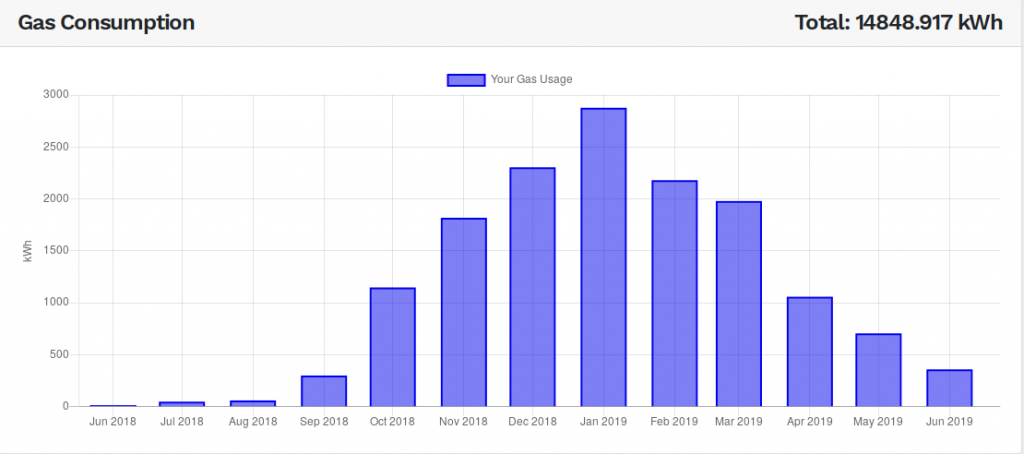 Downloading data
We are also letting you download all your smart meter data in CSV format. Once downloaded you can manipulate the data in a spreadsheet or custom script of your own.
Now for the fun part!
So, now you can see your gas and electricity data broken down in to half hour segments – what's the point of that? Well, this data is both accurate and incredibly powerful in enabling different services.
Firstly, there's the simple point that access to data empowers the householder. Until now many have questioned the point of having a smart meter which seemed to offer little more than an in home display. Now we're offering you the ability to download, store, interpret and share that data in whatever way you see fit.
One member of staff has been frustrated that despite having a smart meter his supplier have been unable to remotely read his smart gas meter – now he can download that data himself, he actually has more control and better access than his supplier!
In the area of energy efficiency, practitioners, designers and academics have struggled for years to accurately baseline home energy use and evaluate the impact of newly installed energy efficiency measures. Monitoring equipment can cost £1,000 per home and often proves unreliable and 'gappy'. And as for metering gas use? Safety has always made that problematic.
Smart meter data on gas and electricity usage can be used to inform steady state energy assessment models such as SAP (Standard Assessment Procedure) or track and understand the effect of new measures. Over the autumn we'll be integrating smart meter data in to My Home Energy Planner and the People Powered Retrofit service.
For new smart energy business models to operate, householders and aggregators need a far better understanding of the peaks and troughs of daily electricity use to identify when and where demand can be shifted. Smart meter data is then used to verify demand shifting and provide DNOs (Distribution Network Operators) and other procurers of flexibility with the information they need to make payments.
Access to smart meter data forms a crucial element of our OpenDSR project.
So, whilst our smart meter service is in the early stages of development we're going to have a lot of fun finding new applications and helping members to make ever greater reductions in their domestic carbon emissions.