The citizens' jury saw 12 people, carefully selected to represent the demographics of the city region, come together to help with decision making on the governance of the local energy market.
The jury took place at Friends' Meeting House in Manchester city centre between 26 April and 5 May. The report containing its recommendations will be published in the summer. Watch the expert witness presentations here.
Read the jury's report.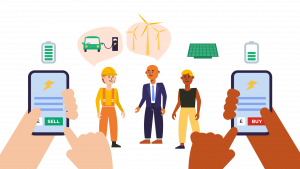 What happened?
The citizens' jury saw 12 people, carefully selected to represent the demographics of the city region, come together to help with decision making on the governance of the local energy market.
The jury, commissioned by the Greater Manchester Combined Authority (GMCA), explored what key everyday factors should be considered when deciding who owns and operates the local energy market and what role GMCA plays going forward.
The jury was part of the GMCA's Greater Manchester Local Energy Market (GMLEM) project to revolutionise energy networks and help the city-region achieve it's goal of becoming carbon neutral by 2038.

How did it work?
Participants were presented with and asked to deliberate on a number of scenarios that explore different structures and relationships. Jurors then anonymously voted for the scenario they'd like to see put into practice. 
The jury met over six sessions between 26 April and 5 May at Friends' Meeting House in Manchester city centre. Participants received £70.00 per day as a thank you for their time.

No specific qualifications or skills were needed. All that was required was a willingness to share views and opinions on energy, and listen to those of other people.
The GMLEM project is funded by a £3m grant from the Industrial Strategy Challenge fund, delivered by UK Research and Innovation, running from July 2020 to June 2022.
How we recruited jury members
Phase 1
We toured around Greater Manchester by bike, towing a visually striking, interactive, engagement stand.
The tour consisted of 14 sites, ranging from housing association community events, supported living centres and shopping malls, to charities, refugee resource centres and social enterprises devoted to sustainability.
We used a variety of tools to hold conversations with people on these sites and ensure we could adapt the conversation to different levels of understanding of energy systems. These included:
Interactive magnetic icons to help explain the energy system and illustrate the LEM platform and business models; 

'Insight postcards' to capture people's needs and challenges regarding the future of energy; 

Discussions around the challenges, opportunities and exciting and confusing elements of the LEM concept.
Phase 2
We then held in-depth interviews with four electric vehicle (EV) drivers and six heat pump users. This ensured we platformed the voices of people with different experiences of heat pumps and electric vehicles, and increased our understanding of how LEM technology can be designed to maximise the positive impacts and counteract the inequalities.
We engaged with over 200 people on an informal basis who are often excluded from conversations around future energy developments due to the technical and complex nature of the topic.
We then decided to run a citizens' jury:
To ensure LEM decisions are based on a broader understanding of needs, challenges and opportunities in GM.

To involve a greater number of citizens in decision making for developing LEM business models.

To increase public understanding of the LEM.

To ensure greater transparency and accountability in decision making around GM LEM.
Oversight Panel
The panel meet alongside the jury to ensure the process is fair and unbiased, as well as deciding what question the jury will consider and agreeing which experts will present to the jury. The following people sit on it.
James Lester
James is Head of Operations at a tech start-up in Manchester and has a special interest in retrofit and green energy. He's overseen two major retrofits projects and is an active Carbon Coop member and investor in People Powered Retrofit.
Sarah Holliday 
Dr Sarah Holliday is a researcher at Nesta Challenges and co-founder of social enterprise Telescope, where her work centres on facilitating and empowering people on the frontline of social challenges to have their voice heard in the policymaking process. She has a technical background in solar energy research within academia, as well as holding a Social Innovation Fellowship with Year Here. This led to her work in community energy, establishing a community solar project in East London with Mayoral funding as well as being elected as a Director of Community Energy London from 2019-2020.
Nkechi Nuella Anasoh 
Nkechi is an Energy Engineer and consultant and has substantial experience working across industry in the oil and gas sector. Nkechi was a visiting researcher to university of Lancaster as a commonwealth professional fellow with a focus on gender equality , Affordable and clean energy. In recent years Nkechi has broadened her focus and interest in renewable energy, climate risks and emission reduction as industries diversify portfolios to reduce carbon emission.
Report
We unveiled the jury's findings at a feedback session on 27th June, 2022. Read the final report.