On 19th April 2018 in Birmingham, Community Energy England and Carbon Co-op hosted a full day of talks on the role that energy efficiency projects could play in community energy activities. Community energy practitioners from across England, expert contractors and representatives from Local Authorities came together to discuss the potential for new business models that can both help reduce carbon emissions, improve the UK's housing stock and relieve fuel poverty. Emma Bridge of Community Energy England and Jonathan Atkinson of Carbon Co-op began the day by covering opportunities that energy efficiency can offer community groups and potential pitfalls that may arise.
Fuel Poverty and Community Buildings
Emma Bridge chaired 'Energy Efficiency in the Community – Tackling Fuel Poverty and Community Buildings', with a panel of experts in the field sharing knowledge and highlighting the role community energy groups could take. Aneaka Kellay, Engagement and Membership Officer of Carbon Co-op, discussed how Carbon Co-op emphasised that fuel poverty is a complex and multi-layered form of social inequality and that community groups working in this field are operating from a position of trust, so therefore must act accordingly. Phil Beardmore advised on the practicalities of engaging in energy efficiency projects in community buildings, stressing the importance of assessing projects on an individual basis and noting that there are a great number of very energy inefficient buildings that have been taken over by already stretched voluntary organisations.
Chas Warlow and Giovanna Speciale of South East London Community Energy (SELCE), gave an overview of the ECO and Warmer Homes scheme. Their ECO project, in partnership with RetrofitWorks and Lewisham Council, is funded through referral fees received from RetrofitWorks, allowing SELCE to employ someone to generate and process leads. Giovanna and Chas accepted that although the business model is not self-sustaining yet, it could be through top-up funding. Inspired by the speakers, delegates discussed the nuances of potential finance pots and Giovanna pointed out, the arguably greater challenge of attitudinal behaviour in those living in fuel poverty, who believe it is 'the tough nature of things'.
Home assessments
Jonathan Atkinson chaired 'Carrying out Home Assessments, Energy Checks'. Having gauged delegates' familiarity with different tools, Jonathan reminded delegates that there are some limitations to community energy group activities in assessments and checks. Paul Testa of the University of Sheffield, explained the '7 steps methodology' that is taught MSc students and stressed the importance of analysis as a vital component in retrofit. Marianne Heaslip of URBED introduced the My Home Energy Planner tool created for Carbon Co-op, which uses Full SAP (Standard Assessment Procedure) tool but with adjustments and improvements. Carlos Alonso Gabizón, from Carbon Co-op covered the coding aspects of the open source tool its user interfaces aimed at householders or community energy organisations to see evaluate home retrofit investments and decisions. Delegates discussed homeowner motivations for retrofit, with Paul and Marianne agreeing that carbon savings are not always the prime motivating factor, but include other aspects such as comfort and health improvements.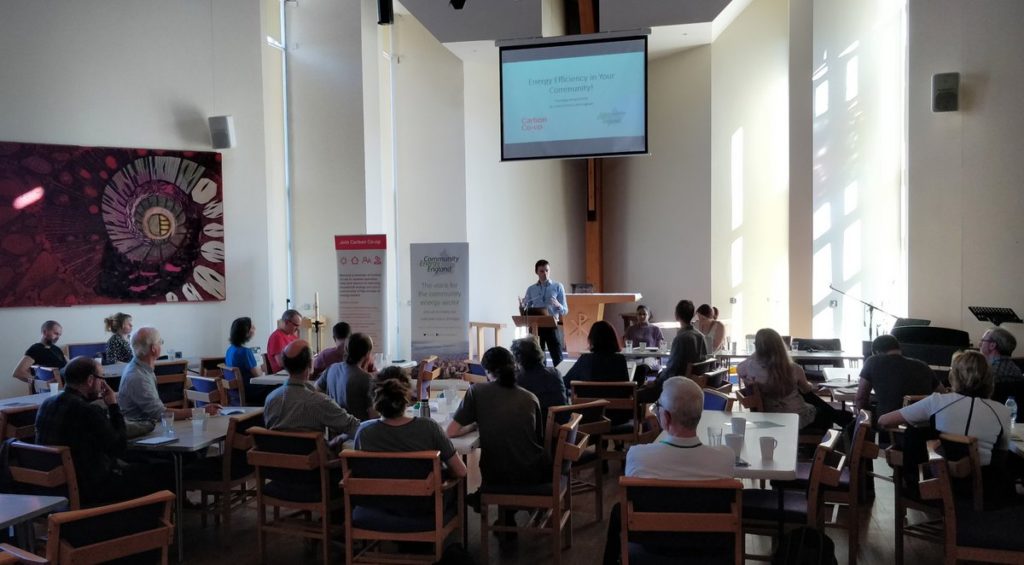 Over lunch, Graham Ayling of Energy Savings Trust (EST) updated attendees on Ofgem's Energy Redress Scheme, administered by EST. Available to charities and partner organisations, the fund is open until at least 2021 and is made up of fines and voluntary donations from energy supply companies. A variety of activities will be accepted, for more information see https://energyredress.org.uk
Achieving quality, mitigating risk
After lunch, Jonathan Atkinson chaired 'Quality, Ambition and Risks of Energy Efficiency'. Tina Holt, Retrofit Course Co-ordinator at the AECB (Association for Environment Conscious Building) offered insights into retrofit performance gap issues and the pitfalls to avoid as well as the importance of having knowledgeable partners with a commitment to high levels of quality. Tina suggested that a viable, role for community energy organisations is to act as quality control monitors to ensure high standards. Kate De Selincourt, freelance writer outlined a programme in Preston, highlighting the consequences poor workmanship leading to shocking results for householders, with serious damage to homes and health apparent through the pictures that Kate collated. No one involved in the planning and delivery of scheme has taken full responsibility for the severe technical faults and it has been arduous to hold organisations accountable and seek reparation. The lack of accountability suggests that there is a role for community energy practitioners in projects such as this, to act as the trusted intermediary. Architect Marianne Heaslip covered a practical example of community energy involvement, the Community Green Deal retrofit project run by Carbon Co-op and URBED outlining success factors. Marianne encouraged groups interested in whole-house retrofit to push performance but always to balance price, time and quality work. The group discussed challenges faced when working with contractors and potential policy interventions.
Find the cash
In 'Financing energy efficiency'. Ben Aylott, from Carbon Co-op chaired the session. Jon Lee, of Ecology Building Society (EBS), a member-owned institution who lend to unusual project and provide non-traditional mortgages. Jon gave an overview of EBS' work and its mission to lend to projects that have a positive sustainable impact. Kayla Ente, of Brighton and Hove Energy Services Co-operative (BHESCo) stressed the importance of engendering trust and close working relationships with hosts, tailoring packages to fit customer goals and financial needs. Delegates discussed mortgage rates, financial modelling and the potential for community engagement with new-build properties. Kayla encouraged delegates to utilise collective strength and engage with local energy providers.
Burly builders
In 'Procuring and working with contractors', with Aneaka Kellay chairing the session, Russell Smith, Director of ParityProjects, introduced RetrofitWorks a not-for-profit, multi-stakeholder, co-operative owned by community-based organisations and contractors, seeking to improve the performance of the UK's housing stock via local retrofit programmes with customers, advocates and practitioners co-existing. Rebecca Ince, Research Fellow at the University of Birmingham, gave insights into how and in what way community energy groups have been involved in energy efficiency projects, based on the findings of her research. Community groups act as 'providers, protectors or promoters' in energy efficiency and organisations should decide which role is most appropriate for them, depending on knowledge and capacity. Bill Butcher, Director of Green Building Store and Passivhaus Consultant, explored the psychology of the construction industry and how to stop projects from becoming adversarial. Bill noted that the construction industry environment is inherently challenging! He felt community energy groups should choose builders carefully and interview extensively before commissioning work. Forming and maintaining trust minimises disagreement, conflict, loss of productivity, cost blow out and delays.
Shiny new tech
'Innovation in retrofit' and was chaired by Jonathan Atkinson, Rosemary Coyne introduced the Energysprong UK project in Nottingham. Ben Aylott then introduced Carbon Co-op's development of the 'Aggregator/ESCO model requiring an ongoing relationship with householders, including monitoring, maintenance and billing. Ben commented that the new, dynamic ways of managing energy offered through aggregator services will prove more efficient than upgrading the electricity grid and provide many opportunities for community energy groups. Delegates discussed the smart meter roll out and the size and scale of potential aggregator projects.
Policy developments
The final panel session of the day facilitated by Aneaka Kellay, reflected on policy developments and featured Graham Ayling and Emma Bridge. Graham noted that the community energy movement is very skilled at finding new and innovative ways to keep driving the energy transition from the bottom up commenting that funds offered through the Energy Redress Scheme could be used to trial new markets. Emma Bridge made the point that the sector is facing a whirlwind of new and upcoming policy consultations from the Government's new Clean Growth Strategy and Industrial Strategy through to Brexit and the national planning framework. She highlighted that BEIS has instituted five Local Energy Hubs across England connected to Local Enterprise Partnerships. The final session of questions and comments raised interesting points for the future around consultations, the quality of retrofit work and opportunities that may arise from municipal energy companies.
As leaders in resilience, adaptation and knowledge, we are really looking forward to seeing where practitioners go next with their energy efficiency projects and will be keeping an eye on activities and updating members and stakeholders in forthcoming newsletters. We encourage everyone to join us at the Community Energy Conference 2018 in Manchester for more discussion and debate.