Ecological Building Systems are generously offering Carbon Co-op members discounts on Thermo Jute 100 insulation, downlight protectors and Wellhofer airtight Attic hatch (offers end December 2019).
MEMBERS: to find out how to access discounts visit the Members' Area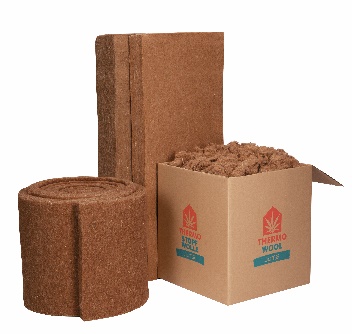 Thermo Jute 100
A natural product perfect for insulating lofts, walls or floors.
Thermo Jute is an ideal solution for natural insulation of lofts, walls or floors.
Thermo Jute has excellent thermal storage capacity, significantly reducing overheating in summer months.
Provides the ability to regulate indoor humidity due to its hygroscopic properties.
This high-density insulation acts as an effective noise buffering material & contains no nutrient base for rodent & insect life.
Thermo Jute is produced with the thermo-bonding process and 100% eco-electricity.
Optime Downlight Protector Mini/Maxi
Specifically designed as an innovative all in one solution for achieving a safe, easy to install sealing system for downlights in new builds or retrofits.
Optime Downlight Protector
Optime Downlight Protector Mini/Maxi offers a solution addressing many issues which arise when installing downlights.
The Downlight Protector Mini is made especially for narrow spacings as it is only 200 x 200 x 140mm.
The larger Optime Downlighter Protector Maxi has a dimension of 320 x 320 x 160mm in order to accommodate a transformer. It is installed in a similar manner to the Mini.
Simple to install by mechanically fastening the box to adjacent joists or noggins and can be used for most types of conventional timber ceilings.
Tested for fire resistance to comply with stringent European Standards and made from non-flammable & recyclable material.
Wellhofer WS4D Airtight Attic Hatch with Ladder
The opening to an attic space is a weak point in any building due to its location between the warm living space and the colder attic space.
The installation of an uninsulated attic hatch/ladder can reduce the overall U value of a ceiling by up to 20%.
Ideal for retrofits (and new builds) Wellhöfer products provide a cost-effective contribution to a low energy home rating, improving home comfort and reducing overall heating costs, risk of condensation and thermal bridging.
Wellhöfer 4D attic hatches have been tested to the same standards (Climate Stability class 3) as external windows and doors to ensure they are able to cope with the colder more humid climate conditions often experienced within attics.
MEMBERS: to find out how to access discounts visit the Members' Area