What does it mean to have a home fit for a 'climate safe' future? An 80% cut in carbon emissions? A 'net zero' home? And why bother at all if we transition away from gas to electric only homes and the grid is completely decarbonised? Marianne Heaslip of URBED and Jonathan Atkinson of Carbon Co-op use this blog post to outline the key issues and propose a new ambition for housing retrofit: 'Zero Carbon Ready' homes.
This article forms a primer for our forthcoming Carbon Co-op AGM 2020 debate on Friday 17th July 2020 at which Marianne and Julie Godefroy present and invite contributions from members and attendees.

For many years Carbon Co-op's ambition for retrofitting homes was expressed in terms of '2050 Homes' – achieving today the kind of domestic carbon emissions we at that time needed to meet by 2050. But since we coined the term much has changed, the consensus now is 2050 will be far too late.
In this post we explore some of these terms and concepts and assess their relevance for our work. We reflect on the performance targets we should be encouraging members to aim for and the benchmarks we should be using in our My Home Energy Planner assessment reports.
We think about the term 'zero carbon ready' and conclude that we need to start to think in absolute terms about reducing our energy demand for heating, about reducing peak electricity loads and ultimately see our individual homes in the context of wider energy system decarbonisation and collective action.
The bigger picture
Home retrofit needs to be viewed within the wider decarbonisation strategy – 'the plan' for the UK is to decarbonise electricity generation whilst moving domestic heating and transportation away from gas and oil and on to electricity, heat pumps rather than gas boilers, and electric cars in place of petrol and diesel (we are very sceptical about the idea of hydrogen as a viable option for domestic heating).

This means that over the next few years, as more heat and transport is electrified there will be more and more demand for electricity putting more pressure on decarbonisation. The answer? At least in terms of heat, greatly reducing our need for energy in our homes through reducing demand by retrofitting homes with insulation and other energy efficiency measures.

Over the next few decades energy efficiency is key to the energy transition and tackling climate change.
Net Zero homes?
A lot of people are talking about 'Net Zero' homes, but it is a problematic concept, not necessarily focussing on reducing carbon emissions but lowering them to a point they can be balanced against so called 'negative emissions' or offset against 'zero carbon' renewable energy generation. It's comparable to a set of scales, on one side the 'costs' of carbon used, on the other the 'benefits' of clean energy generated, 'Net Zero' is conceptualised as the scales balancing, but what goes in the scales?

On a system level negative emissions might controversially include carbon capture and storage or tree planting but on a domestic scale measures are limited to renewables like solar panels. However, though a home might generate enough to meet its total energy demand measured over a whole year this would not take account of the peaks and troughs of day/night and summer/winter. A battery could balance generation to an extent, but the amount of embodied carbon required to manufacture a battery is huge and not 'repaid' through its use.
Likewise, a house might be retrofitted to bring down its energy requirements, but use high energy, synthetic materials and taken over its lifetime, incorporating embodied energy costs the result may not be 'net zero carbon'.
In many ways the idea of individualised 'net zero' homes is incredibly problematic and not really viable.
Carbon emissions and primary energy
Domestic primary energy use and associated carbon emissions are poor metrics – they tell you as much about the wider energy system as they do about the performance of the building.

Primary energy is the measure of the total amount of raw energy required to meet the energy needs of a home. In the case of electricity, this is the energy required to generate and transmit electricity from the power station to your home. In the case of gas, it isn't just the energy from burning the gas, but other activities such as extraction, transmission, storage etc.

Primary energy and carbon factors are the way we calculate how the energy used in your home equates to primary energy demand and carbon dioxide emissions. We simply multiply the energy measured at your meter by an agreed figure, the 'factor' in the case of carbon this is an assumed average of kilogrammes of carbon dioxide equivalent per kilowatt hour used (kgCO2e per kWh). It is important to understand that this number is an approximate figure, which for grid electricity is based on an assumed average. In reality these factors change all the time as different forms of generation contribute more or less to the grid and demand fluctuates. They can vary significantly between summer and winter, day and night, and also over years as the transition to renewable energy accelerates. More recently for example they have swung wildly between periods of lockdown and opening.

Carbon and primary energy factors are therefore largely beyond the control of the householder – you could do absolutely nothing to a house and its carbon emissions reduce significantly over time. Worse still, for people interested in buildings and energy, articulating targets in terms of carbon means trying to hit a moving target that wobbles around every year, month, and even day, making it incredibly difficult to track progress over time.

Less is more – energy performance is key
Instead we should be concerned with the energy performance of a home because that is something we can actually influence.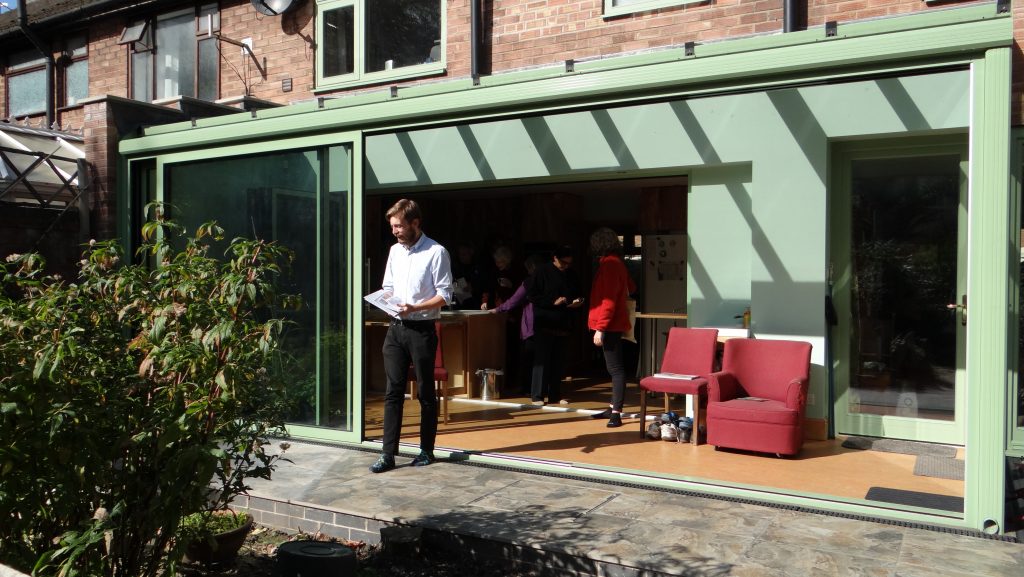 Our Carbon Co-op 'Retrofit End' refers to the adoption of a 'fabric first' approach, this means focussing on the energy performance of a home through the components that make up the building envelope i.e. the walls, floors, ceilings, windows, doors etc, before thinking about heating systems or renewable technologies like solar panels.

Carbon Co-op are committed to 'fabric first' for lots of reasons:
We know it works! Avoiding the 'performance gap'.
Improving building fabric can address issues such as mould and damp, and in turn the health and comfort.
It offers energy bill reductions and long term, predictable, bill security for householders.
It helps with wider energy system management by reducing peak demand.
Not carbon but space heating and peak demand
Space heating demand is a measure of how much energy a home requires to heat it and is a better metric for home energy performance – especially in a climate like the UK's, where most energy used in our homes currently goes into keeping them warm in winter. Usually measured in terms of the energy needed per meter squared of floor space per year (kWh/m2.a) it is independent of carbon grid intensity and offers a static metric that can be used on any home to benchmark energy performance against other homes and against climate change targets.

In the context of the grid, more renewable generation means more plentiful, cheap generation at some times and constraints at others when generation is low and demand high. What becomes more important at the domestic level isn't the total amount of energy used but the peak requirement over the year, known as peak load. If a home's total energy requirements at any one time can be kept within a reasonable limit, then that home will be able to utilise more renewable energy and help reduce our reliance on fossil fuels generation.

This can be done using heat pumps, as these can be run at a constant but low level. In addition, the use of automated load shifting of very high loads via the use of 'smart-enabled' components such as electric vehicle chargers, unlock the potential to shift loads to different times of the day when the grid is less constrained. A well insulated home has the potential to shift demand because the whole house acts like a 'battery' retaining heat for long periods.

All of our suggested benchmarks are absolute rather than relative targets. This provides a measurable number for designers and engineers to aim for, rather than a % reduction which is another moving target. This also encourages fairness, following the principles of 'contraction and convergence' – with the aim that in the end every home has a fair share of the energy that can be produced by a decarbonised grid.
Zero Carbon Ready Homes?
One of the unique things about Carbon Co-op is that our members are keen to demonstrate what is possible in terms of energy efficiency and lead the way in inspiring others.

With that in mind we want to help people be ambitious, and to do as much as is reasonable and technically feasible. We don't think carbon targets should be met by doing nothing and waiting for the grid to decarbonise or covering homes in PV panels or installing expensive and high carbon batteries. Ultimately in any case, that will not result in the dramatic reduction in real carbon emissions that we desperately need.

Instead, we propose focusing on making homes 'zero carbon ready'. Working on the assumption that over time most energy uses will be electrified, and that in turn electricity generation will be wholly decarbonised – and we should be doing all we can at a household level to enable this – but recognising that it doesn't all happen at the level of the house or flat.

Breaking down the targets
To help householders understand what the concept of Zero Carbon Ready Homes' means in practice we're proposing to make some changes to how we present information within My Home Energy Planner reports – but these metrics can be used by householders, irrespective of whether they've had an assessment from us or not.
We will renew our focus on 'fabric first' by placing Space Heating Demand (kWh/m2.a) as our headline metric. The targets for this will be set with reference to the work of the Zero Carbon Hub and the AECB and we will explore further sophistication by setting more bespoke targets with reference to building form factor.
We will support Space Heating Demand with a supplementary metric of peak heating load (W/m2) – similar to that used in Passive House. This also encourages efficiency by helping to avoid oversizing heating systems.
Furthermore, we propose making clear the ambition to remove fossil fuels from space heating supply. We will always present a 'fossil fuel free' heating scenario as part of My Home Energy Planner report recommendations. This will be based on technology that is currently available and that we know works – which will often mean a heat pump or other form of electrified heating.
We will introduce a new metric of 'Energy Use Intensity' as suggested by LETI (London Energy Transformation Initiative) in their zero carbon standard. This is measurable at the meter and therefore a very useful performance metric. What this is set at needs further research – LETI suggest 35kWh/m2.a for new buildings though we may relax this for retrofit.
Instead of focusing on carbon emissions now, we will look at projected carbon emissions over time, comparing each scenario we recommend. This could be a more powerful motivator, with graphs showing a 'do nothing' option against the savings created by each scenario.
Recommendations on domestic renewable generation options will be carefully considered. We will encourage people who have good sites to add PVs etc but avoid recommending other, less optimal technologies in the wrong circumstances. We will also take a wider system and embodied carbon view, so for example PV diverters could be encouraged, but batteries less so.
Put together we believe Zero Carbon Ready Homes will provide a powerful benchmark for changes and a set of metrics for all householders aiming to retrofit their homes to high standards.
What do you think about our proposals? Do they make sense? Is the badge of Zero Carbon Ready Homes an effective one? Drop us an email info@carbon.coop, leave a comment or come along to our AGM on 17th July.
Further reading
The key to tackling climate change: electrify everything, Dave Roberts, Vox
Net Zero One Pager, LETI
Deploying Heat Pumps at scale, lessons from Ireland
Passivhaus – the path to net zero, Passivhaus Trust
How lower carbon factors in SAP will change heating design, CIBSE Journal
The meaning of life: Comparing whole life carbon for gas and electric heating, CIBSE Journal