In this blog, Alex King reviews a session we held in March between the UK's most senior climate policy makers at the Climate Change Committee, people suffering the impacts of the fuel bill crisis and those pushing the boundaries of energy efficiency in Greater Manchester.
Facing the challenge
We know that tackling climate change means insulating our homes and with 27 million homes in the UK that's a huge challenge.
But every home is different and it's therefore essential we hear from ordinary people and ensure retrofit works for them. Without that democratic consent we won't just fail to decarbonise housing. We'll also fail to deliver the many other co-benefits that we know energy efficiency can offer to the wider population in terms of comfort, health and jobs.
That's why we hosted senior members of the Climate Change Committee in March 2022 as the committee visited Manchester, to hear the views of both householders and workers in the industry.
The Climate Change Committee is the independent oversight body established both to advise the government and legally enforce the UK's carbon budget targets. These conversations, we hoped, would bring to light what was working and what the barriers were, and show how Carbon Co-op and People Powered Retrofit were helping overcome those barriers.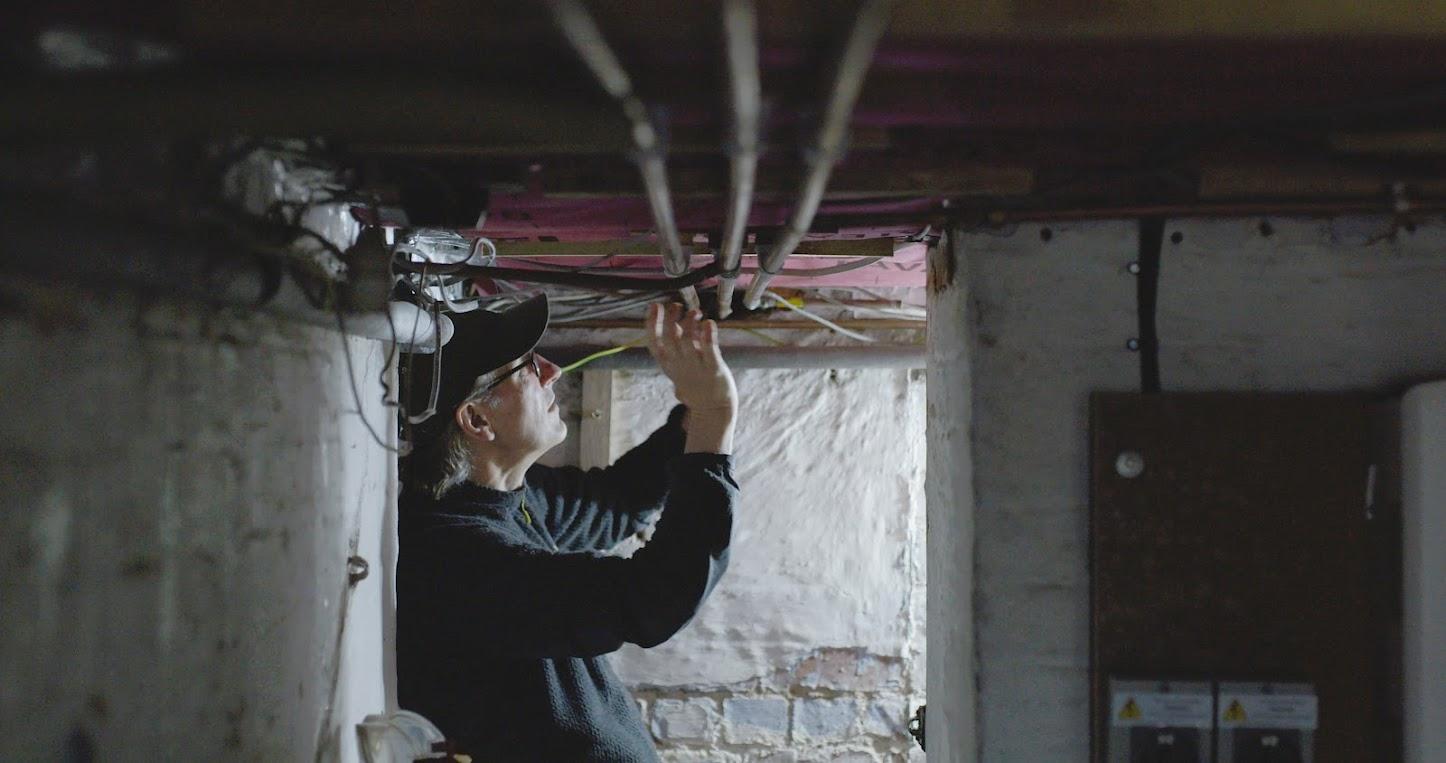 ​​
What are retrofit skills?
A well developed, skilled and able supply chain is one of the key elements of a domestic retrofit market. And yet a recurring theme at the workshop was that policymakers too often have a top-down view of the construction sector without understanding the skills in which they need to invest.
"I've been in meetings with industry stakeholders where too few understand the different job and skills need for external wall insulation or internal wall insulation – and they're funding it," B4Box CEO Aileen McDonnell told attendees. "I'm just like, 'can you please just talk to some builders?'"
Aileen set up B4Box in 2008. It's currently the only company in the UK which trains multi-skill builders as opposed to single trade. Jake joined B4Box as a multi-skill apprentice in the early 2010s. "I didn't have many qualifications. I was at the back of the queue for every job," he told us.
"But B4Box gave me a job," Jake continued. "They gave me training to become a level-2 multi. That means I'm not a joiner, I'm not a plasterer, I'm not a plumber and I'm not a tiler. I'm all of them."
Jake now teaches the last nine multi-skill apprentices in the country. B4Box encapsulated retrofit perfectly; people training, becoming excellent multi-skill builders, and sharing those skills with one another, and making householders' lives easier to boot.
"Single tradesmen means you'll have one man in a van to do the plastering, and then you need another man in a van to do the joinery, and another to do the painting. We have just one van with three people and they'll do the job from start to finish." B4Box felt like a model policymakers should take note of.
'The help was invaluable'
Rob is a homeowner from Rusholme who joined our pilot project in 2014. He told the conference about the disruption he experienced when he had his home insulated.
"The aim of the project was to increase the house from an E [EPC] rating to a B rating if not higher," he recounted. They installed external wall insulation, internal wall insulation, triple glazing, loft insulation, underfloor insulation and solar panels.
"The project took about six months," Rob recalls. "It was very disruptive in the sense that there were builders everywhere for a long period. There were multiple different contractors. And because it was so innovative I think at one point the manufacturer of the insulation had to come over from Germany to teach the builders how to put it on because they'd never put it on before!"
We know the perception of disruption is a big barrier to someone getting their home retrofitted. But Rob said Carbon Co-op and URBED effectively guided him through the retrofit process.
"They provided an initial shopping list of things to do: insulation in various places, cost, savings, what the impact would be and how it would all link together in terms of it being a construction project which could go on for six months potentially."
It was just the sort of householder advocacy that he needed to mitigate the disruption, he said. "That help was invaluable because we'd never done that before," Rob concluded. "We didn't know how to do it and it was really necessary that there was that kind of skilled advisor in the background and then Carbon Co-op continued to manage the project through that."
Feeling confident with contractors
Kate owns a 1930s semi-detached house in Chorlton. Like Rob, she felt she needed support to be able to take the plunge and retrofit her home.
"The general theme of our lives is that we're trying to do as much as we can about climate change," she told the workshop. "We already don't fly. We already don't have a car. We're already vegan. We've done as much as we can to reduce our emissions. This part of it I feel is the hardest thing to do.
Despite already having 270mm of loft insulation and solar panels on their roof, Kate knew she needed to do more but wasn't sure how. "That's when we had our first report from Carbon Co-op to tell us what we needed to do to reduce our emissions further."
They installed 400mm of loft insulation, and in future she will look at external wall insulation, triple glazing, capping and filling the chimney, underfloor insulation on the ground floor, a heat pump and Mechanical Ventilation with Heat Recovery (MVHR). "We're at the stage where we're talking to an architect and getting quotes about drawings and building control and how to choose a contractor," Kate continued.
But she needed guidance on how to interact with builders on quality control to feel confident in retrofit.
"I think the reason I haven't done stuff so far is nervousness about the contractors and whether they know what they're doing," Kate said. "I'm never going to know enough about insulation and ventilation and cold bridging. And to tell a contractor, 'No, I know that's your job that you do all the time, but I know better than you and I'm going to tell you to do it a different way'. I just really need support from an expert to help me."
'Building really well'
Hannah Dixon, from Progress In Practice, agreed with Kate it was often difficult to find contractors who could do retrofit well.
"One of the main challenges for us is finding contractors who are committed to the cause, understand the principles of air tightness and thermal continuity, and understand what it is that they have to deliver," she explained.
"I think we all know there's a skills shortage," Hannah continued. "My main frustration with this is that we aren't necessarily asking people to build particularly differently; we're just asking people to build really well. So asking for really good air tightness, things that should be ingrained as part of the building regulations basically but are regularly ignored."
That also applied to architects, Hannah argued. "If you look at architectural literature, thermal bridges that are designed as part of the standard way of constructing buildings, even there there's a misunderstanding about what retrofit is. So people label refurbishment as retrofit. If as architects we don't know the difference, how can we communicate that to a wider audience?"
'I can see a real future in retrofit'
We were delighted to see solutions to skill shortages come out of the workshop. Richard Shears is a contractor and retrofit assessor who spoke at the workshop on how he made the switch from construction to retrofit.
"I started out as a heating engineer. I got involved with the Green Deal. I then trained to be a domestic energy assessor. That's when I met Jonathan and Marianne at Carbon Co-op and started doing their assessments. I learnt about retrofit from that, how to do it properly and what the important things were."
It was easy for Richard to enter retrofit because of his building background, he explained. "It was kind of a simple jump to go from heating into retrofit. I started doing very small, single-measure projects: floor insulation, wall insulation, that sort of thing. I guess the reason that I did that was because I worked on a plumbing job with a team who were doing retrofit and thought I could do it better than they could!
However, it's a long process to learn how to do retrofit properly, Richard warned. "It's not the same as doing building. You have to take a lot of care and attention. It's building but doing it really well.
Richard then talked about the need for a pipeline of work for builders to reliably move into retrofit and the need for more continuous investment from policy makers.
"So about four years ago I concentrated on retrofit entirely and it's been a bumpy ride. The whole stop-start thing has been difficult. I've always been competing for people's budgets. They don't want to spend £10,000 on wall insulation when they want a kitchen or a bathroom.
But things were changing, he said. "I think in the last year or so there's been a massive uptake in people's demand. And I think that's down to a number of things: climate change is on people's radar, but also energy prices.
"There is enough work out there for me to feel confident to take more work on for apprenticeships," Richard reflected. "I think for the first time I can see a real future in it."