Heat pump installers are busier than ever. Whether an engineer has been installing heat pumps for decades, or is just dipping their toe into this market, they need a combination of technical expertise and strong skills in customer service to help their clients get the best results from their new technology. We spoke to two experienced heat pump installers to find out their top tips for customer service.
Combat misconceptions from the start
A customer's initial enquiry is a great place to bust some myths and set expectations. Duncan Walpole, Managing Director at Enviromental, uses the first phone call with a customer to help people understand what's possible: "A lot of people don't realise that if you want hot water out of it, which makes so much sense, that you've got to have a hot water cylinder." This is especially important in retrofit, as householders might need to plan additional work to create space for their system.
Costs and expected savings are another important area to clarify. Duncan notes, "A heat pump, although it's 400% efficient and you're going to save 400% of carbon, you're not – when you're on grid gas – going to get much cheaper bills, at the moment. I'm sure that will change as time goes by…but at the moment, you're not going to save a hell of a lot of money. But you will save the planet. And that's an example of, I think, where people should be honest to clients."
If a prospective client is worried or not sure how a heat pump will work for them, then visiting a heat pump that has already been installed can help. Charlotte Robinson, Project Coordinator at IMS Heat Pumps, says, "We often take people to previous clients' properties, show their set-up, and get actual customer feedback as well. I find that when they get in front of another customer or someone that has a heat pump, they can ask a lot of questions, and those worries are alleviated."
Communicate appropriately and promptly
When it comes to retrofit, heat pumps are often a small piece of a much larger puzzle. Heat pump engineers will have to work alongside other tradespeople, designers, and the client to make things fit. This is why prompt and clear communication is really important.
Charlotte says that at IMS they use email, phone and face-to-face communication, depending on what an individual customer needs: "I like to find out how people prefer to communicate. I find that a lot of older customers prefer to speak on the phone. We also do site visits. So we actually send our senior engineers out to site, so the customer can speak to someone face-to-face, and then we can understand their needs from there."
Duncan is also an advocate for in-person meetings. As part of his initial survey, he creates a detailed document which is passed on to the heating engineers and electrician. An in-person meeting with them, the customer, and any other builders or installers working alongside them, helps make things run smoothly. "We're all there going, well, well where do you want your controller? Is there nice, or is there nice? If the heat pump's going there, is that right? Or how are we going to landscape it?" This initial meeting only takes half an hour or so, but ensures that everyone on site is on the same page and that the install runs smoothly.
Energy Systems Catapult guide to talking with customers about heat pumps also has some ideas for effective communication.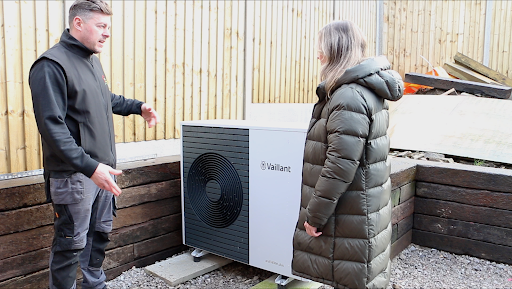 Help customers live with their heat pump
A heat pump isn't a like-for-like swap for a boiler, so it's important for householders to understand how their new system works. If an installer just leaves the manual behind, householders tend to get overwhelmed or confused. This can cause more harm than help, so a good handover is essential. It helps householders to get the most out of their new system and installers to reduce avoidable repeat call-outs.
Handover doesn't have to be complicated. Lee Brown, Operations Director at IMS Heat Pumps, says that during a handover, he'll cover three main things: the heat pump, the controller, and the tanks/controls. Showing the householder the parts of the system and explaining a little bit about how they work is reassuring; while systems might look really complicated, a lot of the basics are quite self-explanatory.
When a customer understands how to repressurise and reset their system, adjust the hot water and heating settings on their controller, and set holiday mode, they are less likely to run into issues. Lee noted that when he goes back to service a customer's heat pump after a year, they typically haven't had to touch the controls at all.
Charlotte also recommends leaving householders to live with their heat pumps for a short period before doing a handover. She finds that, "if we do a handover straight away, when they've not had a settling in period, we tend to have to go back a few more times." After one or two weeks, customers will have a list of questions which gives engineers information about what the householder isn't understanding, or what needs to be explained in a different way.
Both IMS Heat Pumps and Environmental offer service and maintenance to their customers. Annual maintenance is often a part of the heat pump's warranty, and a regular service helps to ensure that heat pumps work efficiently.
Duncan explains how his choice of the Heatmiser Neo controller means that he can also monitor the heat pumps he's installed remotely, which helps his customers to troubleshoot: "Every heat pump that I've got with these on, if there's any problems, I can immediately go in and look at not only what the heating is now, but I can look at how it's been for the last few weeks." He is also there at the end of the phone when customers run into issues: "If the heating goes off, then they contact me, and I'll say, go and have a look at the controller. And they'll say, oh, there's an error message on it!" The solution is typically to simply reset the system, which Duncan says solves over 90% of problems. Once people have had support to solve this once, they can do it on their own.
Good customer service helps businesses thrive
IMS Heat Pumps get a lot of recommendations through the customers that they deal with. For Charlotte, that's the best form of validation: "I think if someone is actively recommending you to their friends or family, or people that they meet randomly, that's the best sign that you've done a good job. And I think as long as we're leaving that kind of mark on the customer after, then the business will always thrive."
For more tips from Charlotte and Duncan, check out this video interview on the Carbon Co-op YouTube channel.