Since 2020, Carbon Co-op has been holding a series of webinars on all areas of our work – including retrofit, energy systems and much more. On this page you can see recordings captured from these presentations. This work has been made possible by the support of the Friends Provident Foundation.
Contents
A list of all the recorded webinars in date order (most recent first).
---
Community-led Approaches to Retrofit: Community Outreach and Engagement
In a series of lunchtime hour-long webinars, three leading Community Energy organisations explore emerging models and best practice for the delivery of retrofit and energy efficiency projects. In this seminar we looked at best practice around engaging and recruiting participants and clients into retrofit projects and services.
Community-led Approaches to Retrofit: Supply chain engagement
In a series of lunchtime hour-long webinars, three leading Community Energy organisations explore emerging models and best practice for the delivery of retrofit and energy efficiency projects. In this seminar we looked at how Community Energy groups can engage with energy efficiency supply chain companies and organisations. Using real world examples, we looked at the kinds of supply chain relationships Community Energy groups might want to establish and the priorities and needs of those companies.
---
Community-led Approaches to Retrofit: Business models for the fuel poor and landlords
In a series of lunchtime hour-long webinars, three leading Community Energy organisations explore emerging models and best practice for the delivery of retrofit and energy efficiency projects. In this session we look at business models for community energy groups to deliver retrofit services with the fuel poor and landlords and look at a variety of government schemes and how groups could be involved.
---
Community-led Approaches to Retrofit: Business models for able to pay
In a series of lunchtime hour-long webinars, three leading Community Energy organisations explore emerging models and best practice for the delivery of retrofit and energy efficiency projects. In this session we look at new and emerging business models for community energy groups to deliver retrofit services to the able to pay. Examples include assessment services, advice services and One Stop Shop services such as People Powered Retrofit.
---
How much insulation do you need to fit a heat pump?
With large scale installation of domestic heat pumps identified as a key technology to support UK decarbonisation targets, there is increasing discussion about how to install them in a way that maximises their efficiency and performance. Lower home heating demand means a smaller heat pump is required, but does the typical home need to be a super insulated Passivhaus or can we get away without improving a house at all? Opinions differ! In this best practice webinar, we will hear from three experts in the field to get different views on the subject and attempt to answer the question: How much insulation do you need to install a heat pump?
---
Local Authority Approach to Person Centred Retrofit for Fuel Poverty
Recorded: 3rd December 2021
In this webinar, we hear from mPower activate partners Nottingham and Plymouth City Council Officers on their work on fuel poverty, and research into person centred approaches. For a shorter 20 minute compilation video and slides see [INSERT LINK]. More on mPower activate.
Exploring models for community driven retrofit.
Recorded: 15th October 2021
In this lunchtime webinar, two community energy organisations share their experiences in devising and delivering retrofit models.
---
Retrofit for All: making energy efficiency work for people
Recorded: 29th April 2021
In this webinar, we will launch the Retrofit for All Toolkit, produced as a part of an Electricity North West funded project that explores people-centered approaches to energy efficiency schemes in the context of energy vulnerability. Download the toolkit here.
---
An Introduction to domestic Air Source Heat Pumps
Recorded: 24 February 2021
What a heat pump is, how to assess whether your home is suitable, how to size a heat pump properly, how to work with installers, what incentives are available. A chance to get your head around the basics! Run by Jonathan Atkinson of Carbon Co-op and mechanical services engineer Florence Collier of Hulmblebee Eco.
Thinking Like A Climate book launch
Recorded: 9 February 2021
In this event Jonathan Atkinson of Carbon Co-op was in conversation with anthropologist, Hannah Knox about her fascinating new book, Thinking Like A Climate, which draws on ethnographic research among Manchester's policy makers, politicians, activists, academics to explores the city's strategies for understanding and responding to the challenge of climate change. Based on Hannah's time embedded at Manchester City Council and here at Carbon Co-op, Hannah argues that the 'multi-dimensional' problem that is climate change challenges the limits of administrative and bureaucratic processes.
Green Building Store – Window installations for energy efficient retrofits
Recorded: 26 January 2021
It is important that the positioning and detailing around windows in a low energy building is carefully considered to optimise performance and airtightness. In this webinar for householders, retrofit clients and installers, Green Building Store Directors Bill Butcher and Chris Herring give an outline of key design considerations for window installation in retrofit projects to reduce thermal bridging and optimise airtightness.
The webinar draws upon case studies of retrofit projects that Green Building Store has worked on and will also include practical airtightness advice around window installation.
Step by Step EnerPHit with Harry Paticus
Recorded 2nd December 2020
We are excited to be joined by Harry Paticas who has been working as an architect on deep retrofit for over a decade and whose home is the first pre-certified step-by-step EnerPHit retrofits in the UK.
Harry will present energy data from his home retrofit project with is currently at stage 3 of 5 stages. He will also share learning from RAFT, an education project which engages schools, local organisations and surrounding communities with retrofit.
---
'Onsite' with People Powered Retrofit – focus on Diathonite
Recorded 25th November 2021
Alan is working towards retrofitting his home with People Powered Retrofit's help. While keen to make home improvements he wants to make sure the works are as ecological as possible and is looking at installing internal wall insulation, floor insulation, ventilation, and a low carbon heating system.
We had hoped to be onsite this autumn but there have been the inevitable delays so during this webinar rather than a virtual site visit we are going to be getting into more depth on Alan's wish to install a highly ecological internal wall insulation system and find out more about diathonite, a cork based insulating plaster.
Alan, Aneaka and Liam (People Powered Retrofit) are joined by Lois Hurst (Passive House Consultant), Jasper Kirkman (Border Lime Construction), Bill Butcher (Green Building Store) for an illuminating discussion on diathonite from a client, designer, and installer perspective.
---
Ventilation Case Studies: Thamesmead and Reading Tackle Damp and Mould
Recorded 5th October 2020
Damp and mould are a significant issue in social housing leading to poor indoor air quality and health impacts. In this webinar we are joined by Peter King and Vince House from Aereco who will take us through Thamesmead's groundbreaking and award-winning Condensation Damp and Mold Strategy, and Reading Borough Council Monitoring Study. These examples show that by carefully designing ventilation systems and monitoring their results, indoor air quality can be improved.
An Introduction to Heat Pumps
Recorded 30th September 2020
Heat pumps are being promoted as low carbon heating systems of the future, but does the hype add up and how can you get the best out of a system? Presented by engineer Florence Collier on Humblebee Eco, we outline the key things householders need to consider when considering switching to a heat pump. With the new Green Homes Grants scheme offering subsidy for systems, we highlight key issues around installation, specification, commissioning and appropriate air tightness measures. The presentation is followed by a Q&A session.
---
Setting Our Retrofit Standards with Mark Siddal
In this webinar we are joined by Mark Siddal from LEAP architectural practice. He explores wider issues such as how comfort, health and wellbeing are taken account of in retrofit, sets in context retrofit and the decarbonisation challenge, and explores how retrofit standards including Passivhaus retrofit standard (EnerPHit) and AECB Building Standard can be applied to your project.
---
An Introduction to the Green Homes Grant Scheme
In this webinar we outline details of the Green Homes Grant scheme and what has and has not yet been confirmed (as of Sept 2020). We set out how householders might want to utilise this grant as part of a one off scheme or a wider whole house retrofit. We sketch out the importance of creating a retrofit plan, highlight contractor procurement best practice and talk about the role of quality assurance frameworks such as PAS2035. Finally, we outline the services we offer and how we might be able to help householders interested in the scheme.
---
How Do We Make Homes Zero Carbon Ready?
Carbon Co-op has long talked about the need for '2050 Retrofits', but what does it mean today to aim for a home fit for a 'climate safe' future? Is it an 80% cut in carbon emissions? A 'net zero' home? And why bother at all if we transition away from gas to electric only homes and the grid is completely decarbonised?
In this discussion we explore some of these terms and concepts and assess what they mean for the work Carbon Co-op does. With the help of some experts in the field, we will think about what performance targets we should be using in the work we do, the targets members set for their home retrofits and how we use services like My Home Energy Planner and People Powered Retrofit to make them a reality. This discussion formed part of the Carbon Co-op AGM 2020.
Speakers:
---
Reflecting on Retrofit – 5 years on from Community Green Deal
Recorded on Wednesday 1st July 2020
In 2015, Carbon Co-op's ground breaking Community Green Deal programme saw the deep retrofit of twelve, owner occupier properties around the Greater Manchester area. Evaluating and tracking the carbon saving and energy performance of these properties is crucial to understanding how we can improve the design, build and maintenance of whole house retrofit projects.
Five years later, householder and self confessed 'data geek' Dominic McCann reviews the latest energy performance data (and lots of graphs) from across the Community Green Deal homes, sharing and demonstrating what can be achieved in a whole house retrofit and consider what next in making homes 'zero carbon ready'.
---
Retrofitting Domestic Heat Pumps – methods and lessons from Ireland
Recorded on Wednesday 23 June 2020
In this webinar for policy makers, practitioners, designers and installers, Paul Kenny of Tipperary Energy Agency and Superhomes discusses the lessons learnt from their Irish roll out programme. The webinar includes an assessment of performance data which forms part of the Superhomes 2.0 evaluation conducted with Limerick Institute of Technology (LIT).
Tipperary Energy Agency's short Heat Pumps course can be found here: https://tippenergy.ie/event/hpcourse/
---
People Powered Retrofit – a neighbourhood model for new retrofit markets
Recorded on Tuesday 22 June 2020
In this webinar, Marianne Heaslip (architect) and Jonathan Atkinson (project manager) outline core elements of the People Powered Retrofit model, key learning from the past 12 months of piloting and discuss the potential for replication in other parts of the UK. They are joined by Senior Researcher at the Centre for Local Economic Strategies (CLES), Jonty Leibowitz who provides a local economic development perspective and the relevance of such models to emerging Green Recovery plans.
---
The Fundamentals of Deep Retrofit with Nick Parsons
Recorded on Weds 17 June 2020
Deep retrofit of homes is a way to reduce bills, improve comfort and make properties greener. But it can be a complicated business, in this webinar, retrofit expert Nick Parsons tackles some of the underlying principles, illustrated by real world examples.
---
Retrofit: Replacement windows and doors webinar with Diane Hubbard
Recorded on Weds 3rd June 2020
High specification windows and doors can be a major expense in a retrofit, so understanding their thermal performance and airtightness is important. In this introductory session, Diane Hubbard of Green Footsteps looked at key features to help you to understand what you may be ordering and standards that influence their performance.
Presenter: Diane Hubbard of Green Footsteps: https://greenfootsteps.co.uk/
---
Beginner's Guide To Retrofit webinar – May 2020
What do we mean when we talk about energy efficiency and retrofit? In this short, beginners guide webinar we explore basic ideas and concepts, helping you get to grips with how you might reduce energy bills, improve your property and make your home a little bit greener.
---
Deep retrofit principles and case studies webinar with Liam Schofield
Recorded Wednesday 6th May 2020
Run by Carbon Co-op's Retrofit Service Manager, Liam Schofield, this session is for householders interested in retrofitting their homes to high levels. The webinar aims to give a brief introduction to insulation and airtightness on domestic energy efficiency projects with a brief overview of principles followed by three live case studies.
---
Introduction to Home Energy Systems
Recorded 21st September 2020
The fourth presentation of our new Introduction to Home Energy Systems training. This provides a basic overview of the energy systems that will become more and more commonplace in our houses as we head toward the net-zero decarbonisation target: low carbon heating, PV, EVs, battery systems, smart technology and home automation.
---
Building airtightness basics webinar with Diane Hubbard
Recorded 16th April 2020
Reducing the leakiness of our homes is important for improving energy efficiency. This introductory session for householders explained what airtightness is and the factors that influence it, together with steps to effectively improve the airtightness of your home. Led by Diane Hubbard of Green Footsteps, with a Q&A session at the end of the webinar.
---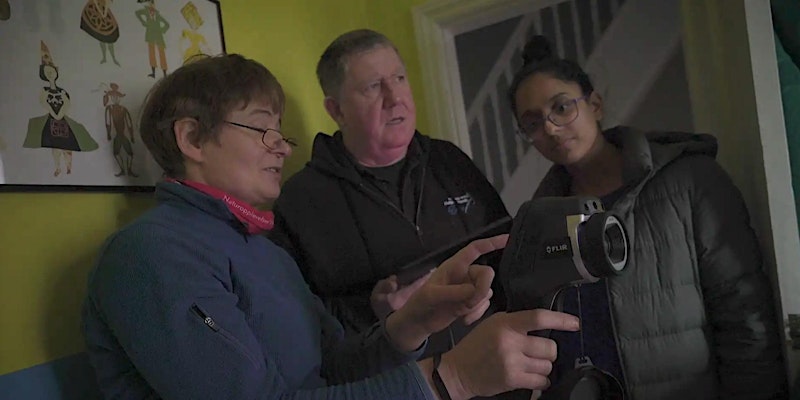 ---
Indoor Air Quality and Ventilation Training
Thu, 2 Apr 2020 17:30
While we spend 90% of our time indoors, we often don't consider whether the air in our homes is healthy for us. In this session we will learn about indoor air pollution, the dynamics of humidity and moisture and strategies that can be used to improve your home environment, including a look at different ventilation systems.
---

Info Night webinar: Construction Contracts – sign on the dotted line?
Wed, 25 Mar 2020 18:00
Engaging a contractor in building works, ordering materials for your retrofit project or making a verbal agreement with a builder? Then you are entering into a contract! But do you know your rights, and if there is something in writing do you read every word before signing on the dotted line?
Heat Pumps for Beginners- Session 1 with Andy Hamilton and Florence Collier
This session covers an introduction to heat pumps for householders, following the journey of Andy Hamilton's 25 year exploration and development of his own home heat-pump system. Andy delves into heat loss and insulation issues as part of his unique case-study. The webinar is co-facilitated by Florence Collier of HumbleBee Eco.
Heat Pumps for Beginners – Session 2 with Trystan Lea and Florence Collier
Trystan Lea of OpenEnergyMonitor (https://openenergymonitor.org/) presents his case study on the design process and installation of an Air Source Heat Pump in his home in North Wales.

Florence Collier of Humble Bee Eco (https://humblebee.eco/) joins Trystan to facilitate the Q & A following the Case Study.