Author Kate De Selincourt reports on the one-day People Powered Retrofit 'Service Design Lab', organised by Carbon Co-op and URBED that took place at Bridge 5 Mill in February 2019.
The State We're In

Effective, deep retrofit of all our housing stock gets more urgent all the time. February's report on housing from the Committee on Climate change ('UK Housing: Fit for the Future?') is just the latest in a steady stream of calls to action.
But the UK has barely begun this task. It has tried – but generally, it has failed. The Green Deal didn't work. Since that scheme was pulled in 2015, there has been no new energy efficiency policy in the UK. The retrofit industry has retreated and scandals have come to light such as Fishwick in Preston, and Grenfell Tower, highlighting poor quality and dangerous work.
Previous government retrofit programmes were structured around how many measures could be pushed onto the housing stock – not putting customers and their homes at the centre, but making them instead passive recipients, there to make up the numbers. It was large contractors (or, effectively, managing agents using numerous subcontractors) in the main who procured the work – often to a very low standard. And now that business model is itself in trouble – as we have seen with the demise of Carillion.
These ill-though-out policies have left an unhelpful legacy of mistrust among householders, and an alienated supply chain. And little, true whole-house retrofit has taken place in the UK, because there are almost no services to attract people in and guide them through the process – and indeed, no clear idea of what an effective service would look like.
People Powered Retrofit?
A key necessity is to find effective ways of supporting people who can afford to pay for their own retrofits – the same people targeted so unsuccessfully by Green Deal – to undertake genuine whole house retrofit. The government may finally be realising that things need to change. To this end, BEIS (Department of Business, Energy and Industrial Strategy, successor to DECC) has put a toe in the water by funding five small pilot projects around the UK, 'People Powered Retrofit' was one of those.
As a member-owned organisation of householders interested in reducing their home emissions through fabric retrofit, and renewable and smart energy services, Carbon Coop has long recognised that any ambition to retrofit housing has to centre on householders and their dwellings, and fit round them – not the other way around.
So, Carbon Coop brought a group of us together into a 'Service Design lab', to consider the preliminary research they had commissioned, and explore what shape a successful service might take – while being realistic about what a small, member-owned organisation can realistically offer. We included around thirty researchers, contractors and advisors – and many of us, unsurprisingly, were also retrofitters 'at home'. It was a fascinating and really enjoyable day.
Retrofitting by neighbourhood
The 'People Powered Retrofit' service will take a localised, social marketing approach, so that word-of-mouth and community links can drive bottom-up promotion of action. Action at neighbourhood level will also be a good fit for the smaller local building firms who the co-op believe are best suited to the work.
The neighbourhood approach may also offer efficiencies when physically very similar homes in the same neighbourhood are being tackled. Technical decisions and calculations, design detailing and even materials sourcing may be able to be shared.
Participants in the lab came up with all sorts of suggestions for ways to 'spread the word' on a local basis – open homes or 'house parties' are very popular – possibly with the added interest of a thermal imaging camera to give vivid demonstrations of spots of hot and cold. A neighbourhood might even get a 'pop-up energy shop' where people could get hands on with, say, insulation materials, and have their questions answered.
The service is unlikely to be a single 'one size fits all' offer – both householders and contractors would be at different stages of experience and understanding. URBED has started to find out something about the differing needs of different kinds of retrofitter from existing Carbon Co-op members. Informed by the work of Val Mitchel and Victoria Haines at Loughborough University, they found prospective retrofitters tended to fall into one of four main 'retrofit personas' (see box).
Retrofit 'personas'

Civic minded retirees
Looking for security and reassurance – keen of accreditation for example. Want to 'do the right thing' for posterity. Often planning for or entering retirement – 'empty nest' is an opportunity to remodel, perhaps to provide downstairs bathroom for example. If they already have health issues however this may limit the level of disruption they can tolerate. Tend not to be very keen on tech.

Climate pragmatists
Motivated by wanting a comfortable healthy home for their families – and an investment for the long term – but very busy! May have a 'window' to address the works when their youngest child starts school.

Climate idealists
Motivated by strong belief that their emissions should be cut down to the minimum – may feel guilty that their home that uses a lot of fuel to heat. Very willing to share what they have done and inspire others eg though open homes etc. Will put in a lot of time and energy and have high expectations of the supply chain.

Home improver
Important group to engage as they are at a 'trigger point' where they have already committed to quite disruptive building work (extension, new roof etc) making this the ideal time to review the energy efficiency of their home – however not yet clear what the best way is to engage them.
But there is also a lot in common to everyone embarking on a whole house retrofit. Even when people are already motivated and have access to finance, they need information, reassurance and contacts. Even if they are already committed to the disruption of building work, retrofit is "adding complication and stress to what is already a complicated and stressful process". There was general agreement in the group that any service hoping to ease more people along this path has to centre on reducing stress and uncertainty.
Service design insights
One of the project partners, Louise Evans from Quantum, gave us a customer's eye view of successful deep retrofit advice and support services from the US and Germany. As she pointed out: "It's too easy to end up designing a programme around what you want to deliver, but if it's going to work, it has to be based around what customers want."
This was very clearly illustrated in the highly successful Fort Collins 'Better Buildings' programme, from Colorado in the US, which boasts an "incredible" conversion rate: around 5% of households in any area respond to the initial (quite intensive) local marketing push – and an impressive 50% of those initial contacts go on to have work done under the programme.
Having spoken to the people who run the programme, Louise told the session: "It was is notable that they are not leading on efficiency at all – everything is about what customers want."
"It takes a lot of invisible work to make the customer experience slick, but that's what makes it so successful, it is made as easy as possible for householders."
While some retrofitters want to be very hands on and involved, others put more priority on a quiet and mess-free life: one suggestion from the discussion was that perhaps there could even be accommodation in the neighbourhood they could retreat to, as part of the service?
Finance
The schemes Louise described offer low interest finance, contingent on various quality criteria being met. While clearly a 'subsidy' to householders, home retrofit benefits wider society as well, and the subsidy is only a fraction of the actual spending. In other words, these loans 'leverage' a lot of private investment. And they are very effective at bringing people in.
Another option discussed was lifetime equity release – this could be useful for older homeowners with lots of equity in their homes – but not in a position to take on or extend a mortgage to pay for the work; the loan is only repaid from the estate.
Finding the right kind of contractors
To understand more about obstacles to retrofit, research had been carried out, asking existing co-op members who had not yet undertaken work were asked what was holding them back. Far and away the most common response was 'finding a contractor'. And of course householders don't want just any contractor – they want one who is recommended and trustworthy.
Carbon Co-op is clear that the best people to deliver whole house retrofit are small to medium local building firms and specialist tradespeople (plasterers, carpenters etc). These local contractors are known in the industry as the "RMI sector" – standing for Repair Maintenance and Improvement – the people who put in a new bathroom or fix your roof.
In contrast with the big firms often contracted under government mass energy efficiency schemes, local small to medium building firms and installers are generally employed by, and answer to, individual householders in their own homes – not to a remote head office or management agent. Small firms prefer to work locally, and a locally-based project will in addition, be able to plug into existing local word-of-mouth recommendations. The fit seems ideal.
But here's the rub. Good, small, family building firms and the trusted, skilled subcontractors are very busy! Because they are good, word of mouth recommendation keeps them busy and often means they aren't on the lookout for more work.
Which is why even before this new programme begins, Carbon Co-op has a backlog of would-be retrofitters among its membership. When contractors are approached for whole house retrofit work, they too often just say 'we don't do that'.
Busy builders
There seems to be a missing link here – the co-op needs to find out what would attract more suppliers into this market and persuade them to branch out into using new products and techniques. How can this be made manageable in terms of time and cash investment for contractors to learn new skills?
A reliable stream of retrofit work might appeal to builders (this "baseload" has drawn in a pool of contractors who deliver much of the work at Fort Collins) But there has to be enough certainty, and volume, for these firms to invest in acquiring the skills to extend their repertoire into, say, airtightness detailing, or fitting solid wall insulation.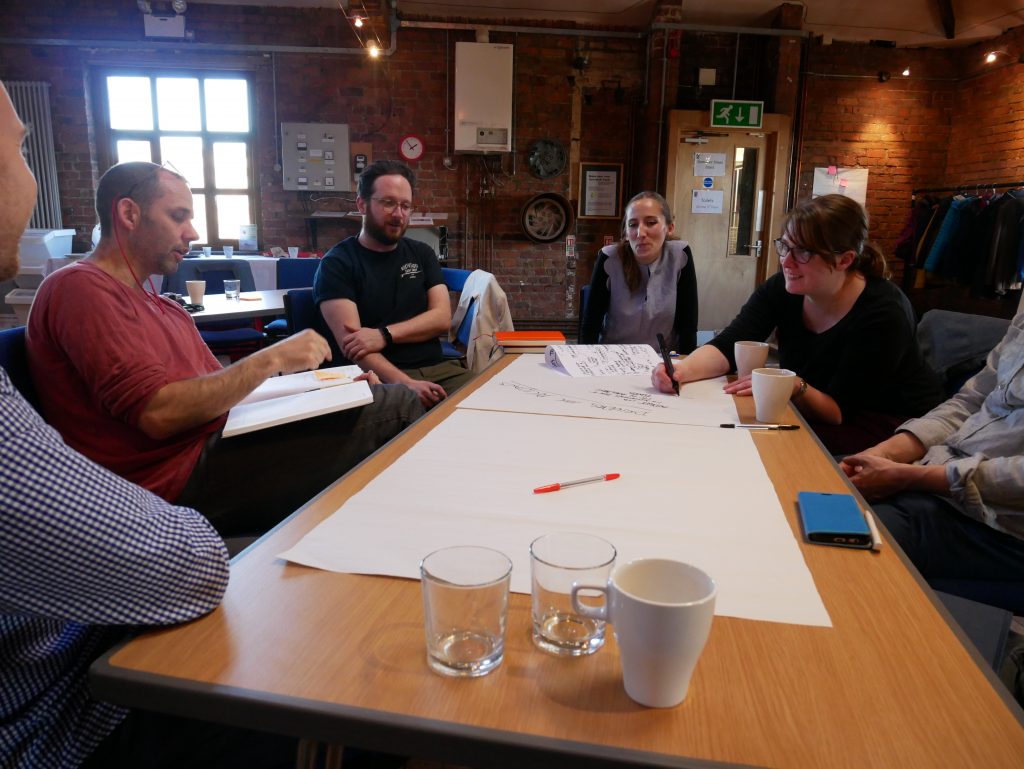 Suggestions to draw contractors in included development of "on the job" training or mentoring, so people did not have to free up time to sit in classrooms. On-site mentoring is a service offered by the Green Building Store: they told us a member of their experienced retrofit team may need to spend as little as half a day on site with contractors, but as director Bill Butcher put it "builders know a lot more than they think." Another discussion brought the concept of a 'retrofit grandpa' – reflecting on the fact that so many skilled tradespeople were nearing retirement, and ways were needed to capture and pass on their expertise.
Another suggestion was that an 'able to pay' retrofit programme might benefit from running alongside externally funded fuel poverty work, designed to the same principles and quality standards, but procured more 'in bulk' – for example by a local authority. The promise of a continuous supply of this work might be able to 'underwrite' the investment by contractors in new retrofit knowledge and skills, preparing them to step straight into 'able to pay' projects.
Trusting contractors
Customers definitely want to be able to trust their contractors and to rely on the quality of the work – but what was the best way to ensure this? From both householder and contractors' point of view, it was felt it would be invaluable if the coop could offer 'someone on the end of a phone' to troubleshoot. Would this be do-able? The session agreed that some kind of ongoing engagement was going to be an essential part of a service that brought in more people than the 'already converted'.
The workshop also considered whether formal accreditation of contractors was worth the extra cost and time investment. Would accreditation save on on-site QA (Quality Assurance) – or was onsite QA actually preferable to remote, paper-based accreditation anyway?
In London, a contractor (rather than consumer) co-op called Retrofit Works is carrying out another of the BEIS pilots, and the two coops are learning from each other. So for example, looking at their arrangements for accreditation, Retrofit Works does not require full PAS accreditation (the formal British Standard) of its members, but they do demand a 'service level agreement' for areas such as customer care.
A certain amount of quality assurance – and possibly even mentoring – can be done remotely, eg photos or even FaceTime calls – an approach used by both Retrofit Works and by other participants in the workshop. In the Fort Collins scheme, Louise told us this approach was popular with both the householders and the contractors.
The discussion recognised that greater the degrees of certainty/ assurance come with a cost – you usually pay for reducing risk. But certainty is a product with a value: one delegate pointed out that as a householder, although her budget was limited, it would be worth money to her, to pay for certainty regarding her contractors.
This is something that has to be worked out to meet the needs of the contractor, the householders and the Coop in whatever go-between or broker role they end up.
Balancing the risk
Finally, a key decision for the coop to make is where liability and risk should sit. Bill Taylor of arc4, who has been investigating this question for People Powered Retrofit posed the question: "Where do we find the balance between risk and cost for Carbon Co-op and householder in any contractor scheme?" Should the coop be advisors, matchmakers – or contractually engaged? – by householders or possibly even by contractors?
These are all issues the co-op now has to go away and think about – and build the contributions from the day into a new service – I for one can't wait to find out what they come up with!
Thanks to Kate for her reflections and everyone who attending the event, keep an eye out for the People Powered Retrofit service soft launching this summer to see how the discussions at the Service Design Lab have influenced its development.