MCFly reader Jonathan Atkinson explains how Carbon
Co-op got pro bono help from techies last weekend at "Madlab".
(Reposted, with permission, from here.)
Carbon Co-op were lucky enough to be one of the good causes selected for the first Good for Nothing in the North at MadLab over the weekend of 6/7th October 2012.
Blog post by Carbon Co-op project manager, Jonathan Atkinson (@lowwintersun)
The idea behind Good for Nothing is a simple one, get a whole heap of
professional creatives: graphic designers, web coders, technicians and
PR types in a room for a weekend and get them to devote their time,
skills and expertise towards fulfilling the marketing needs of three
good causes. For free. It's been around for a number of years in London
and the events regularly attract upwards of a hundred people, on the
back of that they're moving up north.
The event is curated by designer Loz Ives, coder Andy Gott and eco-designer Mark Shayler. As much as possible everything is blagged or donated, hence our weekend is fuelled by complementary Yorkshire tea, a Unicorn Grocery fruit hamper and the largest array of Tunnock's
confectionery I have ever or will ever seen – Tunnock's products I
never knew existed or were even technically possible. Proceedings take
place at MadLab, a truly unique space in Manchester and ideally suited to this weekend.
FRIDAY EVENING: In 10 minute presentations we pitch our good causes
to assembled marketing professionals who will choose which group to
volunteer for. The other projects are Mountains of Hope, an outward bound project for disadvantaged kids and Signposts, a Manchester-based charity. Carbon Co-op are after coders to help us develop an open source energy monitor and designers to do some t-shirts and posters.
19:45 The Carbon Co-op pitch is kicked off with a classic Charlie
Baker presentation. Onlookers are visibly shocked/impressed at his
ability to talk so quickly and yet still cover highly technical subjects
and make sense. It does the trick and we get plenty of help including a
coder and a game designer.
20:00 The pitches are followed by a social fuelled by complimentary Becks and the inevitable Tunnock's.
SATURDAY
09.00 Everyone arrives, assembles and starts…
10.15 Team Carbon Co-op arrive fashionably late, burdened as we are
with a severe Tunnock's hangovers, assembled creatives are already hard
at work on the three briefs.
11.00 Matt Fawcett of Carbon Co-op and Tristan Lea of Open Energy Monitors
have set up a soldering station on our table. Tristan's kit is
simplicity itself, a basic circuit board on to which various bits of
monitoring kit can be added as appropriate, electricity use,
temperature, CO2 concentration (to measure air tightness/drafts) and
humidity.
12.00 I chat to Jana Wendler,
a PhD student examining utopian urban spaces. She has a side interest
in gaming and play and we discuss ideas around energy usage. The basic
problem is that people get quickly bored of energy monitors once the
novelty wears off. Gaming, setting challenges and competitions, would be
a way to keep people interested and engaged with their energy use.
13.20 We are joined from Pete, a graphic design student from
Stockport, he churns out some great poster ideas though as he has just
started his course he is sadly unable to take them past the concept
stage – thanks anyway Pete!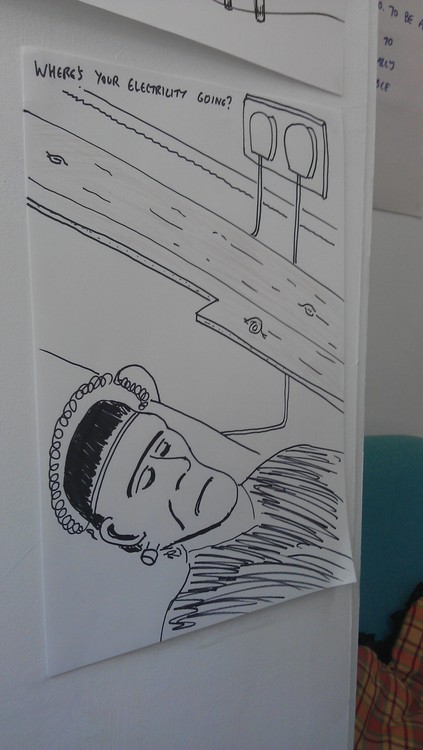 13.30 Lunch and the GfN boys have laid on a spread of chilli and wraps, excellent, very filling, room for a Tunnock's though?
14.00 Activity grows fevered as our team plot the integration of an
energy monitor dashboard in the Carbon Co-op website, if only I knew
what they were on about.
15.00 Day 1 presentation time: lots of 'ooohs' and 'aaahs' from the
audience as we demonstrate live monitoring of temperature, humidity and
electricity usage from MadLab. Some furrowed brows as an ethical dilemma
arises, the GfN tea urn is consuming nearly as much energy as the
creatives' MacBook laptops and charging iPhones combined. Moral
arguments ensue but the killer blow comes with, "without tea, what would
we drink with our Tunnock's?" No agreeable answer comes and the urns
stay on.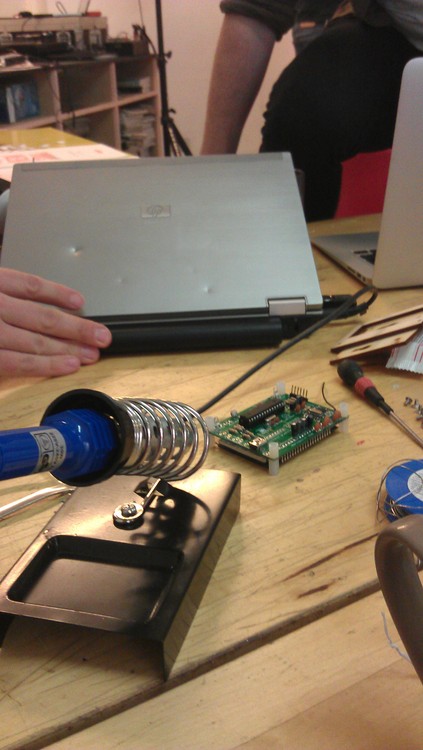 16.00 Slightly fried by a day of coding and Tunnock's, assembled
creatives stumble home. I head to the Manchester Arena to see Radiohead
who make complex and eloquent songs about the fact we are all completely
stuffed – an excellent show, worth every penny!
SUNDAY
11.15 The Good for Nothing team have assured me that my technical
skills are so precious and in demand that I should have a lie in and
come in a bit later. As I arrive Team Carbon Co-op have already been at
the grind stone for 2 hours. Somehow they have coped without me.
12.00 More coding, more soldering, more scribbling on flip chart paper.
12.15 A breakthrough as our VPN test server successfully integrates with the Open Energy Monitor dashboard. Yes I cry!
12.30 I'm taken aside (ie away from the important people and their
important work) and given a consultation with Mark Shayler, a guy who
makes his living advising corporates on sustainability issues. It's
great to get an outside perspective on Carbon Co-op messaging from a
professional and Mark even works up a quick model presentation
highlighting some key communication points.
13.00 Mark also helps us by recording a couple of quick videos with
our coders and technical team. It's fascinating to see the geeks
struggle to articulate ideas and actions in colloquial verbal English
rather than their usual text, IM and email.
13.30 More lunch, more chilli. The Mountains of Hope guy proffers a
bucket of Tunnock's, "You know you want to." he says. I say no to
Tunnock's for the first time this weekend.
14.00 We've attracted more graphic designers and are having a go at
some t-shirts and more posters as well as a swish new version of the
energy monitor dashboard.
15.35 The big show and tell. Everyone who's been working over the
weekend assembles and we take a look at the work. Mountains of Hope have
a a great new website with a hand drawn logo and Signposts have a 5
minute video presentation showcasing their work. Carbon Co-op have the
building blocks for a revolutionary open energy monitor system that will
allow our members to understand exactly how their houses operate and
track the effect of any change and improvements they implement. Not only
that but we have some gaming and challenge ideas, a new presentation
and a new take on Carbon Co-op and a range of new t-shirt and poster
ideas.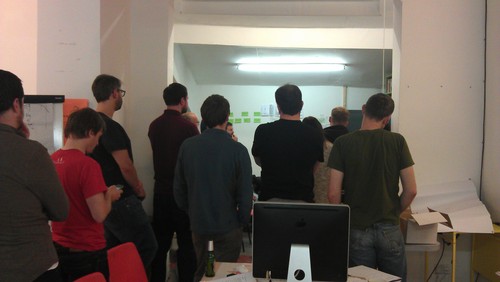 END OF THE WEEKEND: Good for Nothing is a great opportunity for good
causes to get the kind of marketing and technical expertise that would
ordinarily cost thousands of pounds. It's not just the design work and
websites you get at the end but the ideas and advice that spring from
the conversations throughout the two days.
They're planning to do another weekend in January and have a social
before Christmas and I'd highly recommend you get involved, whether
you're a creative who wants to do some positive pro-bono work or a a
good cause looking for some expert help.
If nothing else it's worth it for the Tunnock's.