Insights from the DIY retrofit for homeowners' course, 6th, 7th and 20th May 2017, by Kate Simpson.
Feeling energised, on the train home from my third day of training in DIY retrofit for homeowners in Manchester. Led by the Dan Chaplin, director of Think Building Energy with ten years of experience in planning, doing and managing energy-efficiency retrofits for Latch in Leeds. Dan was contracted by the Carbon Co-op to run the training after a successful first in November.
The training was a stimulating mix of practical sessions, built on a strong theoretical foundation. The eleven homeowner attendees were a mix of DIY newbies and those who had pre-dabbled in energy-efficiency. The course helped consolidate piecemeal knowledge and we all received a handy booklet brimming with detailed info and pics. The moisture risks of insulating homes were made clear throughout, with honest examples of previous condensation problems encountered in practice.
Day 1 was hosted in URBED office library
Mainly theoretical day providing an overview of energy demand reduction principles; retrofit strategies; heat loss, thermal bridges and U-values; ventilation techniques and modelling packages to estimate energy savings and moisture movement. Dan was able to explain complex principles in a clear, concise and engaging way with practical demonstrations, activities and links for further reading along the way. His explanation of air leakage using a cup, water and a sponge was super!
Day 2 was held in M3Industries
Practical sessions galore! We got to grips with the physical process of adding insulation between joists using a loose material (e.g. sheeps wool, hemp or mineral wool) for a cold roof, ensuring ventilation at the eaves to minimise moisture risks.
Loose insulation between joists- evenly spread and ensuring ventilation with an eaves ventilator roll
We then installed rigid boards (e.g. Polyisocyanurate (PIR) or phenolic board) between rafters, cut to size and sealed with expanding foam, before adding a second layer with plastic insulation fixings to the rafters for a warm usable roof space option.
Measuring panels to size
Cutting a tapered edge with bread knife
Sitting the panel flush between rafters
Sealing using expanding foam.
Leave the expanding foam to dry for 30 mins, trim the expanding foam flush to boards
Add second layer on top of rafters and fixed using plastic fixings to rafters.
Following careful guidance we minimised the potential for thermal bridging, ensured adequate ventilation and maintained a continuous layer of insulation. The day was wrapped up after covering external wall insulation detail design and minimising interstitial moisture risks.
Day 3 accommodated at Equinox Housing Co-operative
Here we got into the detail of air-tightness sealing, either to minimise draughts or aim for Passivhaus standard (for the very ambitious!). We practiced fixing wood fibre insulation to a wall using a drill and plastic insulation fixings. Insulation ran behind joists to ensure a continuous layer against the building envelope (once a floor/ceiling is cut away to allow this – this could also be done one room at a time with careful planning to ensure continuous insulation is added). Loose insulation was inserted within a small cavity behind the joists, with air-tightness membrane running in front, to ensure continuous seal.
Fix insulation panel to wall and run loose insulation behind joists and run air-tightness membrane in front of insulation
We then moved on to the principles of draught proofing all potential sources of air infiltration within the home with handy photographs for light fixings, sockets and plumbing openings. We practiced draught proofing around doors and window types. Foam seal are recommended for items which are closed under pressure, such as a door frame. Brush sealings advised for moving parts such as sliding sash windows.
Foam draught strip on a door and window frames
Brush draft strip on a sliding sash window
We then got under the detail of underfloor insulation and how to deal with tricky factors like electric cables, narrow crawl spaces and working in a dusty environment.
Advice and practical sessions were given on insulating pipe work, cutting angled edges using a tool mate and taping the corners to achieve a good seal.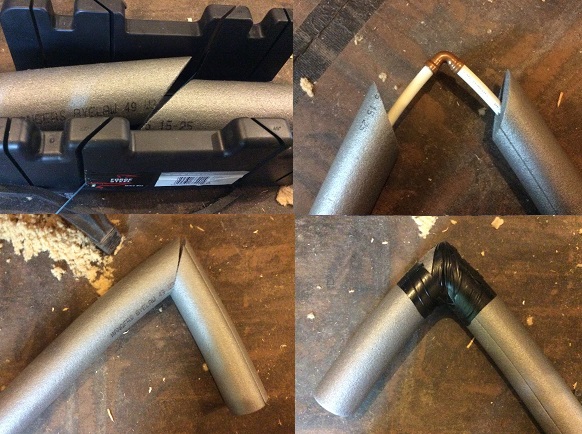 Pipe lagging cut to fit amd taped up with PVC tape to create a good seal
The take home key principles were:
Continuous insulation
Continuous air-tight layer
Minimise thermal bridging
Mitigate moisture risks
Much more detail was provided than I can provide in this blog, but to find out about future DIY retrofit workshops, just email info@carbon.coop
For further reading, here are a few starting points:
Retrofit for the Future: https://retrofit.innovateuk.org
Green Building forum: www.greenbuildingforum.co.uk/newforum
AECB Forum: www.aecb.net/forum
CSE advice: www.cse.org.uk/advice
Historic Scotland: www.historicenvironment.scot/advice-and-support/your-property/saving-energy-in-traditional-buildings
STBA Wheel: http://responsible-retrofit.org/wheel/
Superhomes network of exemplars: www.superhomes.org.uk
Green Open Homes: www.greenopenhomes.net/support-for-organisers/events-by-region
Low Energy Building Database: www.lowenergybuildings.org.uk